I vores lille bryggers (8 m2) havde vi nogle sørgelige klinker på gulvet fra 1979. Vi ville gerne friske rummet lidt op, så jeg kastede mig ud i mine første eksperimenter med flydespartel og epoxymaling. I dette indlæg viser jeg, hvordan det gik.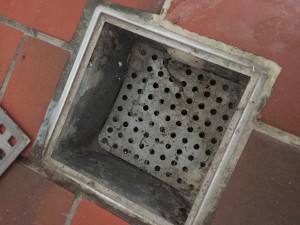 Min største bekymring gik på afløbet. Ifølge mine beregninger ville flydespartlen føje en lille centimeter til gulvhøjden, så højden på afløbsskålen skulle gerne følge med. Da jeg ikke var interesseret i at kaste penge efter en VVS-mand, måtte jeg finde et alternativ.
Heldigvis faldt jeg over en såkaldt forhøjelsesramme i Silvan af fabrikatet Purus til cirka kr. 90. Det er en lille plastikramme, som fuges fast til den eksisterende afl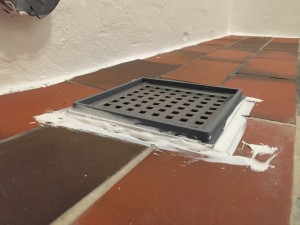 øbsskål og forhøjer denne med 10 mm (fås også i andre højder). Jeg kan ikke helt lure, om denne løsning giver et hak i tilstandsrapporten. Jeg tog chancen – vi skal ikke sælge foreløbigt.
Husk grundig rengøring på og omkring afløbsskålen, inden du fuger forhøjelsesrammen fast. Jeg brugte en fugemasse fra Dana Lim til at fuge med – og var ikke nærig med det.
Med denne sten ude af skoen, var jeg klar til min ilddåb med flydespartel. Der findes et hav af producenter af flydespartel, men da jeg til andre formål har haft gode erfaringer med produkter fra Weber, kiggede jeg i deres retning. Jeg tog kontakt til dem via deres website og fik rigtig god vejledning til, hvilke produkter jeg skulle anvende og hvordan jeg skulle gribe processen an. Verdensklasse kundeservice – tak Weber!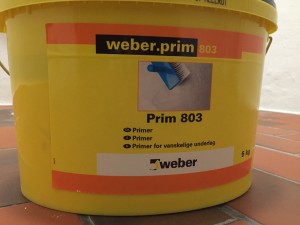 Først og fremmest rengjorde jeg de oprindelige klinker grundigt. Herefter fik gulvet første lag hæftegrunder med weber.prim 803. Jeg påførte primeren med en pensel, men der kan også bruges en rulle.
Herefter finspartlede jeg med weber.floor 4040 combi rapid DR. Jeg tog desværre fejl af blandingsforholdet og fik tilføjet for lidt vand. Det gav en ret tyk masse, som var vanskelig af jævne ud med tandspartlen og hærdede meget hurtigt. Det lykkedes, men overfladen blev relativ ujævn.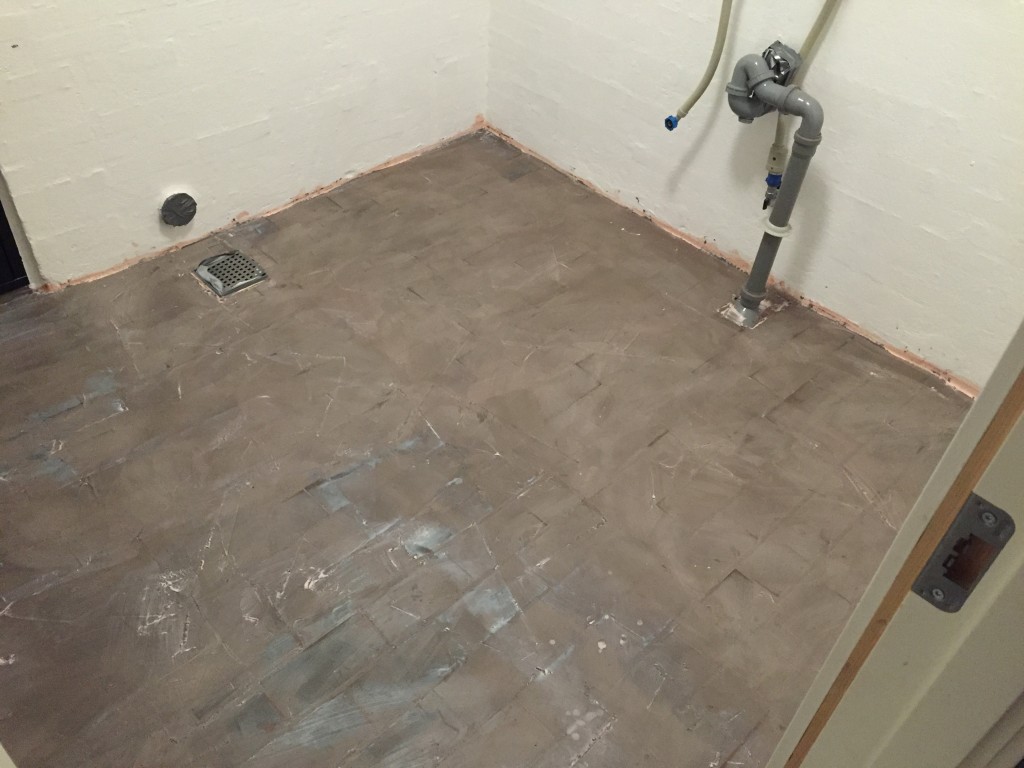 Efter et par timers udtørring primede jeg igen med web.prim 803.
Da primeren var tør, kunne jeg påføre det afsluttende lag flydespartel – weber.floor 4160 FineFlow Rapid. Da jeg ikke helt viste, hvordan dette produkt ville flyde ud, valgte jeg at påføre det i to lag og lære hen ad vejen.
Jeg var ene om arbejdet og blandede flydespartlen til første lag af to omgang. Det viste sig dog at være en udfordring. Første lag hærdede så hurtigt, at da jeg var færdig med at blande anden portion, kunne det ikke flyde pænt sammen. Der blev tydelige overgange. Jeg vil derfor helt klart anbefale at være to om arbejdet – én til at blande og én til at påføre flydespartlen.
Desuden kan det anbefales at anskaffe et par pigsko, når du arbejder med flydespartel. Så kan gå ovenpå det nyspartlede område, mens du arbejder uden at ødelægge det.
Husk også at anskaffe en pigrulle monteret på en stang. Den hjælper med til at fordele spartelmassen jævnt og fjerner eventuelle luftlommer i massen.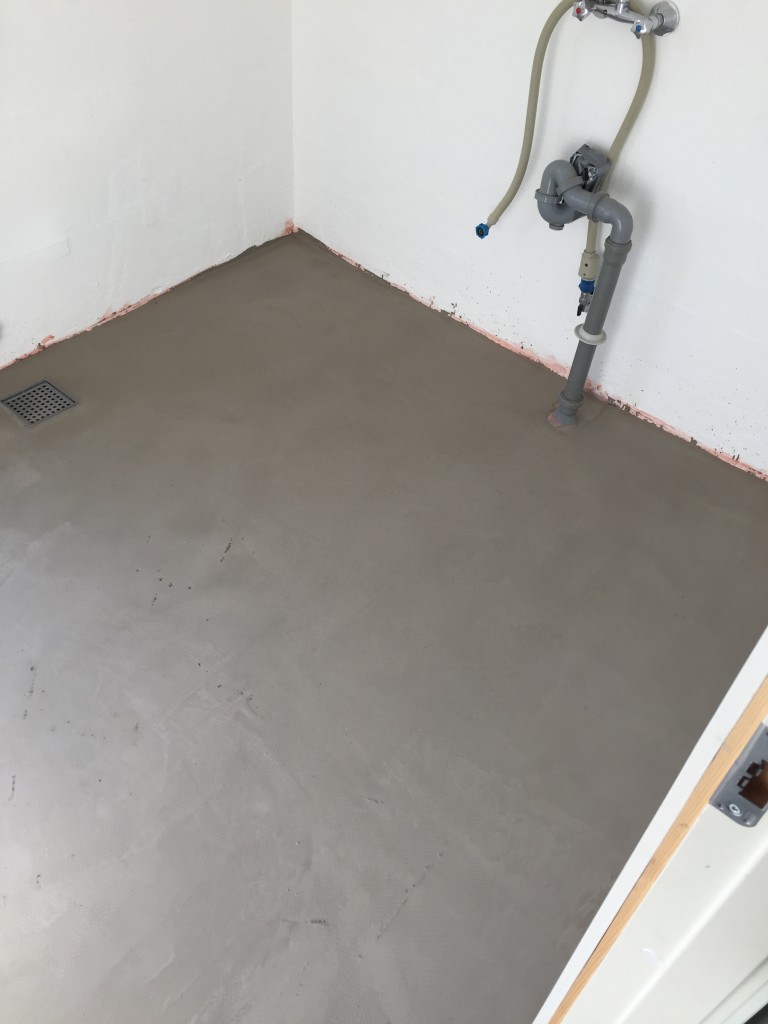 Efter udtørring af første lag weber.floor 4160 gav jeg gulvet endnu en gang primer. Herefter – klog af skade – valgte jeg at blande én stor portion spartelmasse til det afsluttende lag.
Det blev en stor succes. Spartelmassen flød pænt ud med lidt hjælp fra en bred spartel og pigrullen. Den hærdede overflade blev overraskende jævn og fin og der var ikke behov for at slibe den.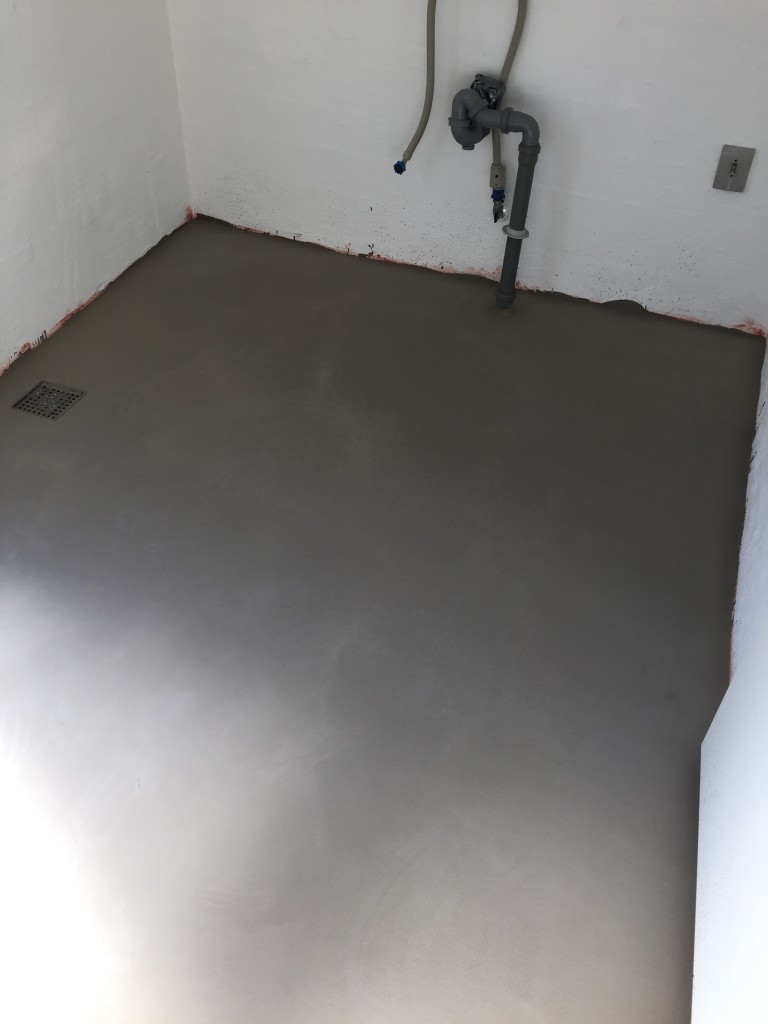 Ualmindeligt tilfreds og stolt af mit eget arbejde var jeg nu klar til at afslutte med epoxymaling for at opnå en glat, robust og rengøringsvenlig overflade.
Jeg købte malingen hos min lokale malerpusher Michael, der driver efarvehandel.dk på Kridthøj Torv i Højbjerg. Som altid fik jeg rigtig god vejledning og blev klædt godt på til arbejdet med epoxymalingen. Som navnet antyder sælger efarvehandel.dk også på nettet.
Epoxymaling har ry for at være svært at arbejde med og at afgive en stærk lugt – det er slet ikke tilfældet. Malingen påføres blot med en rulle som almindelig maling, mens kanterne klares med en pensel. Ift. lugten blev jeg også positivt overrasket. Hvis du blot sørger for god udluftning, er der ikke behov for åndedrætsværn, da malingen er vandbaseret.
Ikke desto mindre skal du huske at beskytte dig selv, da epoxymalingen er stærkt ætsende. Husk handsker og briller!
Husk også at købe både rulle og pensel af rigtig god kvalitet. Jeg var nærig, hvilket viste sig at være et dumt sted at spare. Rullen afgav fnuller og penslen tabte hår, som jeg konstant måtte pille op fra gulvet og male over igen.
Maler-Michael solgte mig en to-komponent epoxymaling fra Vesla bestående af en base og en hærder. Når de to blandes sammen, skal arbejdet gå hurtigt, da det størkner relativt hurtigt. Husk at fortynde første lag med 10% vand for at få en god grunder.
Jeg gav mit bryggersgulv i alt tre lag epoxymaling og resultatet er blevet rigtig godt.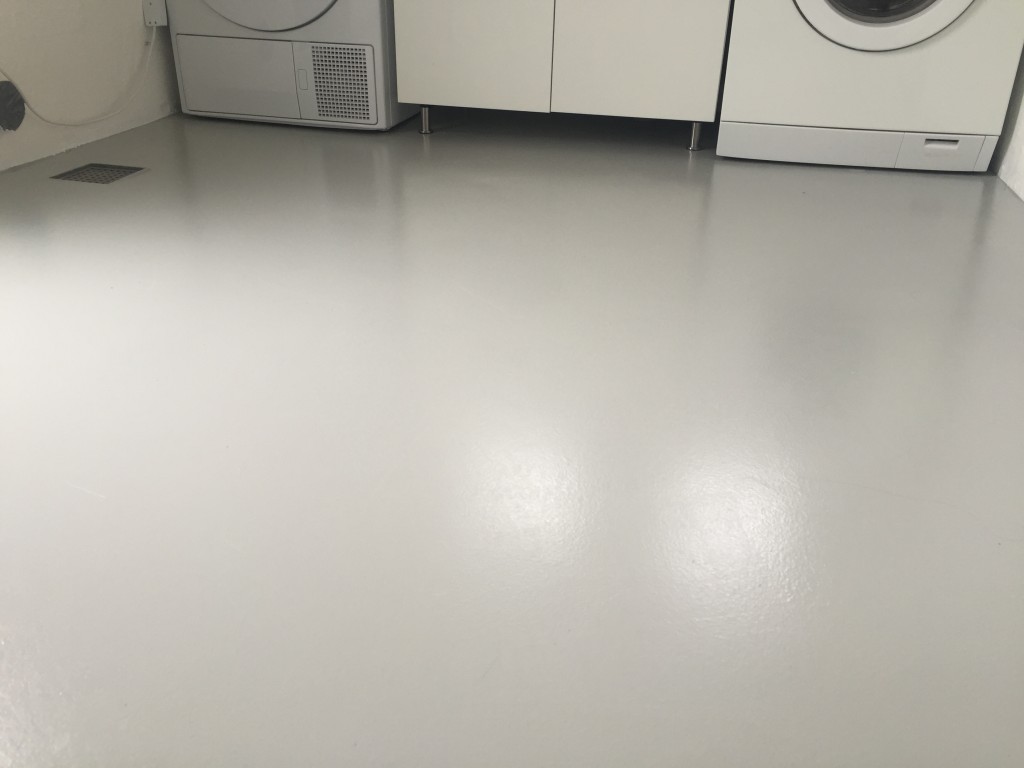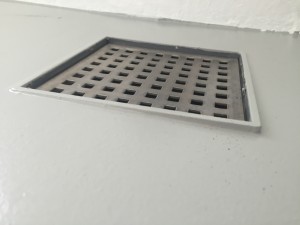 Slangen i paradiset var finishen omkring min forhøjede afløbsskål. Den blev desværre ikke helt plan med gulvet, så der kan stå vand.
Ikke desto mindre kan jeg varmt anbefale en mindre trænet gør-det-selv'er at kaste sig ud i at arbejde med både flydespartel og epoxy.
God arbejdslyst 🙂